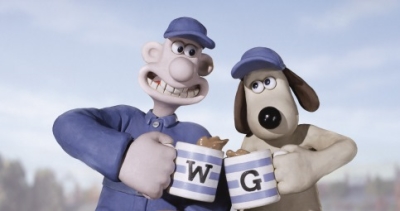 Dem Bild nach zu urteilen wisst ihr was jetzt kommt. Ja, genau. Ich muss gestehen dass ich ein Fan von den Macheren Nick Park und Steve Box bin. Ich mochte die Hühnergeschichte
schon sehr. Und ich muss ebenfalls gestehen dass ich in Wallace und Gromit/In the Curse of the Were-Rabbit mit allergrößtem Vorbehalt ging. Soviel Vorschußlorbeeren sind mir nie geheuer.
Doch alles unberechtigt. Ich mag den Film sehr…
Ich weiss überigens nicht ob es überall so ist, im Vorspann läuft ein Kurzfilm von den Pinguinen aus Madagaskar ->(der überigens nicht gut war). Die Pinguine sind richtig Klasse und um Längen besser als Madagaskar selbst.