Mettlach ist kleines verschlafenes Dörfchen an der Saar. Aber dort befindet sich ein Keramikmuseum und eine der Villeroy&Boch Manufakturen. Es gibt dort so viel Porzellan zu kaufen wie in keinem anderen Dorf. Porzellansüchtige werden in Bussen heran gekarrt und losgelassen. Wehe sie haben ihre Beruhigungstabeletten gegen den Porzellankoller nicht eingepackt. Dann leidet die Brieftasche unter Schwindsucht.
Genau dort war ich heute. Und ich muss sagen es ist berrauschend. Sogar ich konnte nicht wiederstehen und habe mir eine knallorange Kaffetasse aus der Easy Collection gekauft.
Meine Tasche auspackend fiel mir eben eine Postkarte aus den Werbeständern in die Hand, die ich vorgestern im Utopolis eingesackt hatte.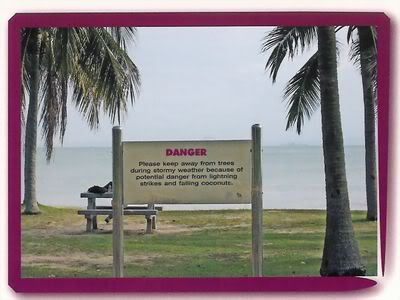 Kann man lesen was draufsteht?
Please keep away from trees during stormy weather because of potential danger from lighting strikes and falling coconuts.
Bei dem miesen Wetter das wir haben würde ich was darum geben dort zu sein wo die Kokosnüsse einen umhauen.