Gestern dem Old Spitalfield Market besichtigt. Ein absoluter Must an einem Sonntagmorgen. Ich brauchte fast ueber eine Stunde um von Bayswater nach Liverpoolstreet zu fahren. Ich sprang zwischen der District-, Circle- und Hammersmuth & City Line hin und her. Die Baumassnahmen machten mich fast wahsinnig. Dabei sind es nur 11 Stationen. Doch ich mache es jetzt wie die meisten Londoner auch, ich nehme was zum lesen mit…
Danach die Sunday Times gekauft und mich auf mein hotel Zimmer zurueckgezogen. Ueber einem Artikel von Borat eingenickt und erst wieder am spaeten Nachmittag erwacht. Moment ich kuck schnell was ich ueber diesen unmoeglichen Typen Borat finde….
Die offizielle Homepage
Die inoffizielle Homepage
Der Film / Borat: Cultural Learnings of America for Make Benefit Glorious Nation of Kazakhstan
Und noch ein Foto von ihm damit ihr gleich wisst wo es lang geht.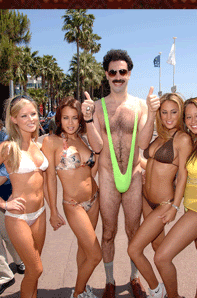 Nach sooo viel Kultur setz ich heut noch einen drauf und besichtigedie Tate Modern.