Es fiel mir wirklich schwer um 6:00 aufzustehen! Puh! Das ist alles viel zu früh für mich, der sonst gewöhnt ist bis spät zu arbeiten.
Ich fuhr noch leicht unwach in den Süden des Landes und absolvierte das was ich zu tun hatte.
Am Nachmittag legte mich hin für eine Weile. Es war von Nöten. Nicht weil ich nicht genug Schlaf bekommen hatte, sondern weil ich vor zwei Tagen schon, eine falsche Bewegung gemacht hatte und das kam so. Ich hatte die Glasflaschen in einem Beutel zum Glascontainer gebracht und versehentlich den Beutel mit hinein geschmissen. Als ich ihn wieder rausfischen wollte, machte ich eine falsche Bewegung und seitdem habe ich einen schmerzenden Punkt unterhalb des Thorax. Es tut höllisch weh je nachdem welche Bewegung ich mache.
Ich nahm am Abend eine Ibu. Das half einigermaßen.
Abendessen gab es im Hotel Parc Belair: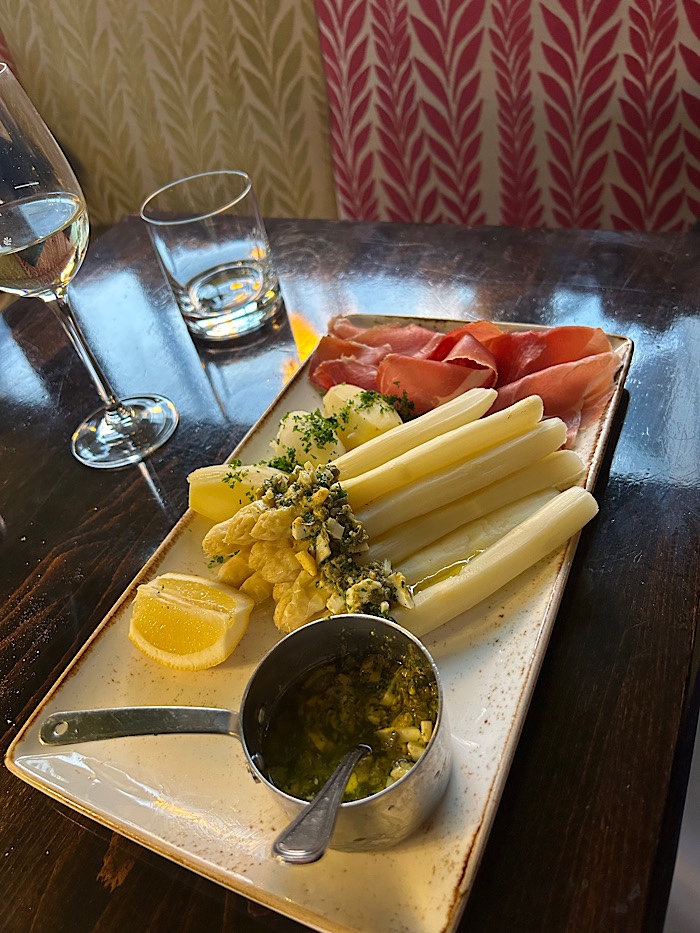 Spargel mit Vinaigrette und Schinken. Sehr gut!
Früh zu Bett, da mir noch bis Ende der Woche das gleiche Frühaufsteher Programm bevorsteht.
***
Creative nonfiction. Hört sich das nicht wie ein Widerspruch in sich an? Im New Yorker eine schöne Besprechung über ein Buch das sich damit beschäftigt. The Origins of Cerativity.