Heute ist es passiert. Das Schlimmste das einem Logschreiber passieren kann. Die Sinnkrise!
Ganz unangemeldet, hinterhältig und mit voller Wucht überfiel sie mich. Dabei ist die Sinnkrise ein schlummernder ständiger Begleiter. Jeden kämpfe ich mit ihr und habe bis jetzt noch immer gesiegt. Ob ich heute siege wird der Tag zeigen.
Auslöser dafür war eine simple blöde Recherche. Es fing damit an, dass mir heute morgen auffiel, dass es zahlreiche Seiten gibt, die, egal ob sie etwas damit zu tun haben oder nicht, ihre Seiten designmäßig mit WM Zeugs aufpeppen.Man will ja schließlich mit der Zeit gehen und auf der gleichen doofen Welle schwimmen wie all die andern auch. (Dazu fällt mir grade das Wort Volksverblödung ein.) Ein paar Logos habe ich gefunden. Sogar ältere Logos die noch der WM 2002 stammen. Doch alles in allem hält es sich, bei genauerem Hinsehen, in Grenzen. Es sind vor allem die offiziellen Sponsoren, die einen Riesentamtam veranstalten. Allen voran T-online und Co.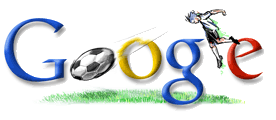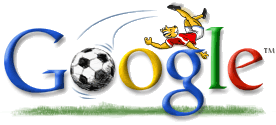 WM 2002
Ich klickte also meine ganzen Bookmarks nach Fußbällen rauf und runter, und dann geschah es. Das Blog Google Video of the Day (weiß gar nicht ob ich die je verlinkt habe) wurde geschlossen. Sinnkrise dort, Sinnkrise hier ! Es war so als ob es nur diesen winzigen Auslöser brauchte, dass irgendjemand, den ich gar nicht kenne und dessen Log ich nur mittelprächtig finde, das Handtuch wirft, und ich springe gleich hinterher.
Sinnkrise. Ich will erst gar nicht auf diese selbst zu sprechen kommen und euch erklären warum und weshalb. Es würde nur dazu führen dass ich mich immer mehr hineinsteigere… Es ja nicht zum erstenmal.